Frey EX Pro long term review
FREY EX Pro and Frey EX Advanced electric mountain bikes from China raised some eyebrows when they initially been offered to the market back in 2019. Since then, they exploded in popularity, with Frey's current lead-times are 6 months. If you want one, you have to order now, prepay and patiently wait.
Our example was build in 2019 for 2020 delivery. Since then we clocked well over 2000km on the bike, mostly on trails and cross country.
The Frey EX isn't the most playful of E-bikes, but it's still a whole lot of fun, its rolling quality components, good geometry and highest power motor you can get at the moment. Frey EX delivery and fist impressions review can be found here.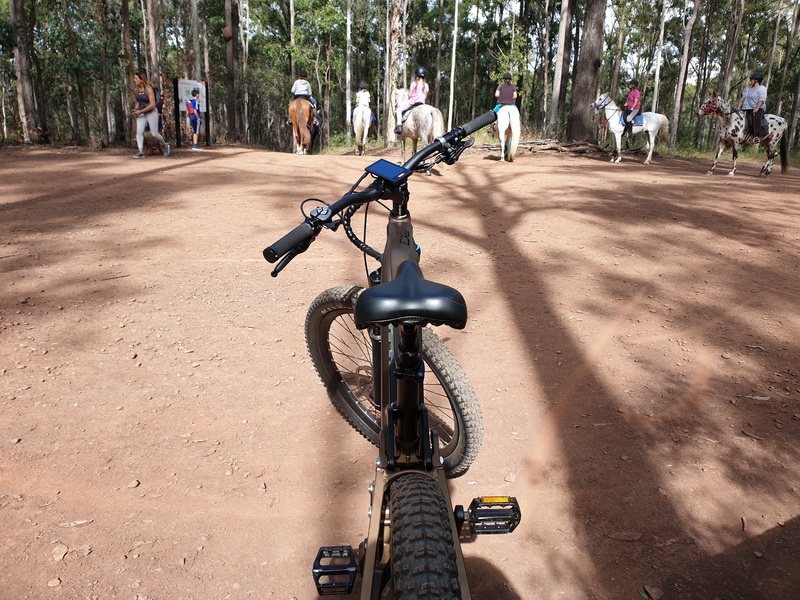 The Ride
You prepare the nigh before. Checking e-bike first, oil the chain, air pressure in tires and shock absorbers. Make sure all screws are tight, battery and connectors are good. Pack spare derailleur, chain links, tube and basic tools. Some dry snacks, camelback water pack all fit in one backpack. Last, you plug charging cable in to the bike battery and go sleep early, tomorrow is a long day.
In the morning, you gear up for the ride of your life on this unmissable three-day small-group mountain biking adventure and churn up some serious dirt along world-class trails.
Home to the terrain that mountain bikers dream of, trip features 210km of unrivalled cycling territory suitable for adventurous riders from pro-level. Looped around a natural bowl of breath-taking nature. You warm up your wheels on the rolling open trails with fluid turns following straight to grips with rocky patch where boulders, berms and intense descents await. As your day unfold, put some serious air between you and the earth at high speed jumps on wide open trails and drops naturally accruing at dry creek crossings. Pedal past panoramic views of the towns on the steep and technical trail. Ride an hour almost vertical uphill, fully exploring benefits of Frey EX 160Nm motor assist, and you'll reach the equally challenging high point, home to a vast array of tracks that swerve and curve through mystical forest. It's been a long day, are you ready for a coming up challenge? Sharpen your senses with a night-time ride and zoom at full speed burning up remaining charge in bike's battery through the bush trail. Submerge in soundscape and views of mystical creatures that your now tired brain project in the forest in a shadows of the forest thrown by 1,250-lumen mountain bike light leading the way along the trail.
You arrive to your overnight cabin. You covered over 80km of some mind bending terrain. You put bike on charge, you eat, wash and crush on bed.

Somewhere on the back of your mind, you evaluate amount of covered ground and number of uphill's where you had to depend on Bafang Ultra 1500W motor, you know that even in your prime years you would not be able to replicate this ride. Now few decades later, a technology made it possible for you to plan and execute bike ride of your life, even that you are now not in the condition for any serious competitive sport. You need a good sleep, tomorrow is day 2 out of three.
---
The Frey EX Pro is the top-tier model in Frey's electric trail mountain bike range. With 180mm front and 160mm of rear travel, the EX Pro sits between the shorter-travel XC bikes and the full blown 200mm+ a full-bore e-enduro beasts.
Like other Frey ebikes, the EX Pro is powered by a Bafang-sourced G510 motor system, with a impressive 675Wh battery on board plus 675Wh external secondary battery.
When you're looking to purchase non-powered bike, specifications are critical and it's all about perfect match of componentry to personal preferences. Every gram saved is one less to lug uphill, every extra gear means tighter spacing or more range, every option added or removed make it better fit to already well-matched bike. These things matter a lot less with e-bikes, higher-end groupset is nice but not going to stand out as life saver, it all blends in to general feel of going fast. You could spend a great deal of money on a flagship models maybe even go for carbon frames but, if it's based around the same geometery and motor as the more affordable models, it's still going to be a heavy 25kg+ bike, the difference is unlikely to impress you when you have 160Nm of assist from Bafang G510 motor. Frey EX employ frame with a good modern geometry and custom rear suspension, metal fabrication companies that build frames for Frey done a very good job, it's tidy and rigid.
We found less bothered about gearing on Frey EX too, both in terms of range and spacing when riding cross country and downhill. Splashing out for the latest 12-speed groupset is questionable, when 11-speed is sufficient and 9-speed is desired for 30% spacing and improved life-span.
Spending money on tires, drop-post and spares appear to be more important.
Riding the Frey EX Pro is the definition of a very good time. Even though the surprisingly wide at 780mm bars that kept catching on every tree I passed presented to be slightly odd to begin with, I now enjoy very cool riding position. The suspension, tyres and 1500W motor make any terrain feel flat. Roots, branches, rocks, ditches and drops under Frey EX Pro bike all the same and don't require a second thought. However, the comfort-enhancing low 25 PSI air pressure does have its drawbacks, look out for snake bites and punchers such as when you're trying to accelerate uphill or land anything other than perfect.
I feel, I perhaps neglected keeping the bike serviced. Apart from oiling the chain, monitoring the air pressure in the shock and washing the Frey EX PRO after rides, I haven't done anything else. After 2,000 km, the chain and cassette is replaced and it's time that the forks and shock got serviced. The tyres, on the other hands somehow OK. Despite the low kept pressure, the wear and tear is minimal due to the mainly off-road riding.
Upgrades and improvements been avoided, we're curious about how the original stock combination deliver. The Bafang Ultra Max, coming without a specific protective plate, has took the hits many times, be it from stone steps or stumps, still doesn't show a single dent in its China die casting casing. The OEM  pedals have taken some hits too, failed and had to be replaced.
Displays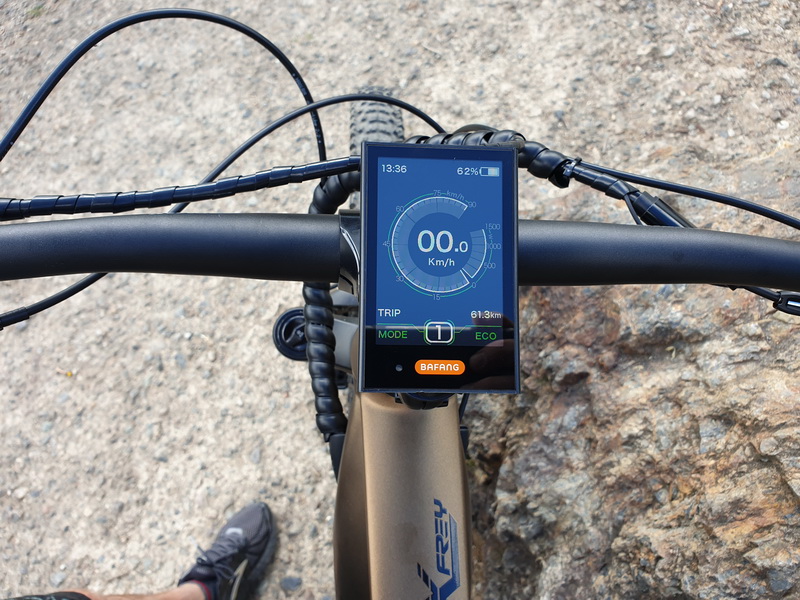 Bafang felt the need to stick a great big screen on the bars. While large and impressive, stock DPC18 display is great to impress friends, but we been looking for something smaller and less obtrusive. The 750C came as more robust and nimble alternative. We opted for Bluetooth enabled model for life GPS data and guidance on display via connectivity with the phone.
Display connect to motor via original custom wire harness manufacturer in China that supply Bafang directly. But since connectors are not patented, many aftermarket options are available as plun'n'play in to original wiring harness.
Impressions of 750C
Smaller and better build for MTB
Bluetooth for GPS, but problematic and unstable
750C do not have USB compared to DPC18
750C have no ECO mode, which is good
750C UP/DOWN control is laggy
Looses time, unless frequently connected to mobile
Not sunlight friendly, reflective
Both get fog build-up
Plug and play
There is long list of displays that are compatible with Bafang G510 Ultra. You can pick and chose to suite your personal preferences. Most will offer open access to programming, unlike Bosch drives and displays.
Tyres
Supplied with Maxxis 27.5*2.8″ REKON+ TLR from the factory, no surprises expected, until we started to experience frequent punchers. Same track, same tyre but Frey EX was getting puncher after puncher. Not snake bites as one would expect but sharp object penetrating tyre. It appear that motor added torque at the rear wheel was moving/lifting debris in some unfortunate way. The solution was simple, we pumped some tyre sealant in to the tubes, without the expense of the going tubeless and with some minor weight penalty we how have not had one single flat tyre over a long time.
The minor drawback is sealant contamination at the valve, making pumping tyres less effortless, but acceptable price to pay for trouble-free miles.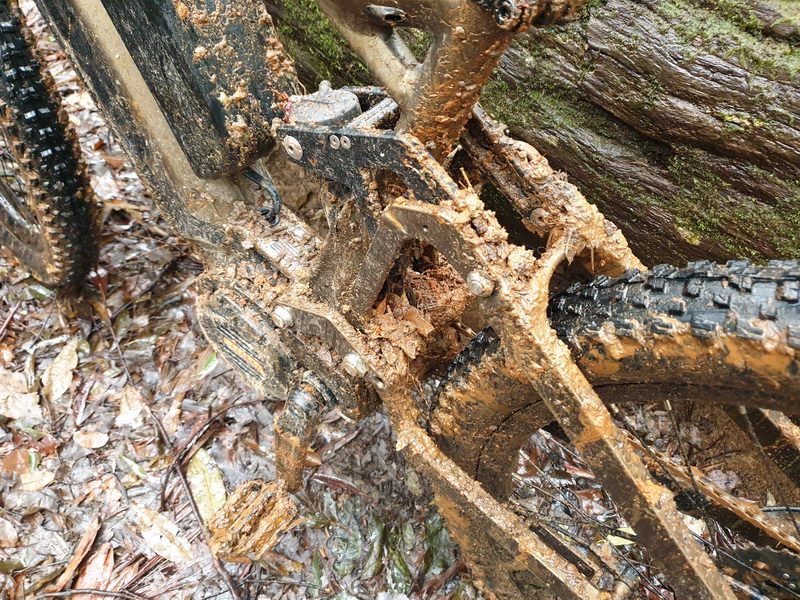 Shimano XT M8000 11/46T Groupset
Shimano XT M8000 is common groupset for E-MTB's and used in the wide range of assisted mountain bikes. Frey opted for 11/46T cassette, capable to deliver top speeds over 50Km/h if you are keen to keep cadence high.
With welcome ditch the front derailleur came wider-range 11-46t cassette. At 495g this cassette is no lightweight, but it's not outrageously expensive, either and requires frequent changes as we found out. After about 1250km chain needed replacement due to stretch. Usually, new chain will fit ok on cassette with 1200km on it, but not when you run 160Nm assisted E-MTB. With chain, came new cassette as original had excessive tooth wear.
Interestingly, it does appear that cassette and chain can be keep for well over 1500km, with the increased risk of chain snap. There are no mis-shifts, no other issues at 1200km.
The stock power delivery of Frey EX Pro is terrible. It may be suited to some specific race application, but not for general public going for XC or flow trails. Jerky torque output, put massive strain on chain and groupset in general. We re-programmed Bafang Ultra G510, you welcome to try offered settings and see if you like them. We call them 'ultra smooth' tune.
11 speed XT M8000 is just fine. But 9 speed would do the same job with improved life-span. 30% steps will be easily absorbed, as we found our self shifting 2 gears at a time fairly often.
Pedals
Frey EX came with some generic low cost pedal options. And we can see why, as this is something that get's replaced as first modification on any bike. It's very personal, and there is endless options.
Stock pedals lasted 300km before bearings developed clicking sound. Replacing them with some Shimano pedals, improved feel and grip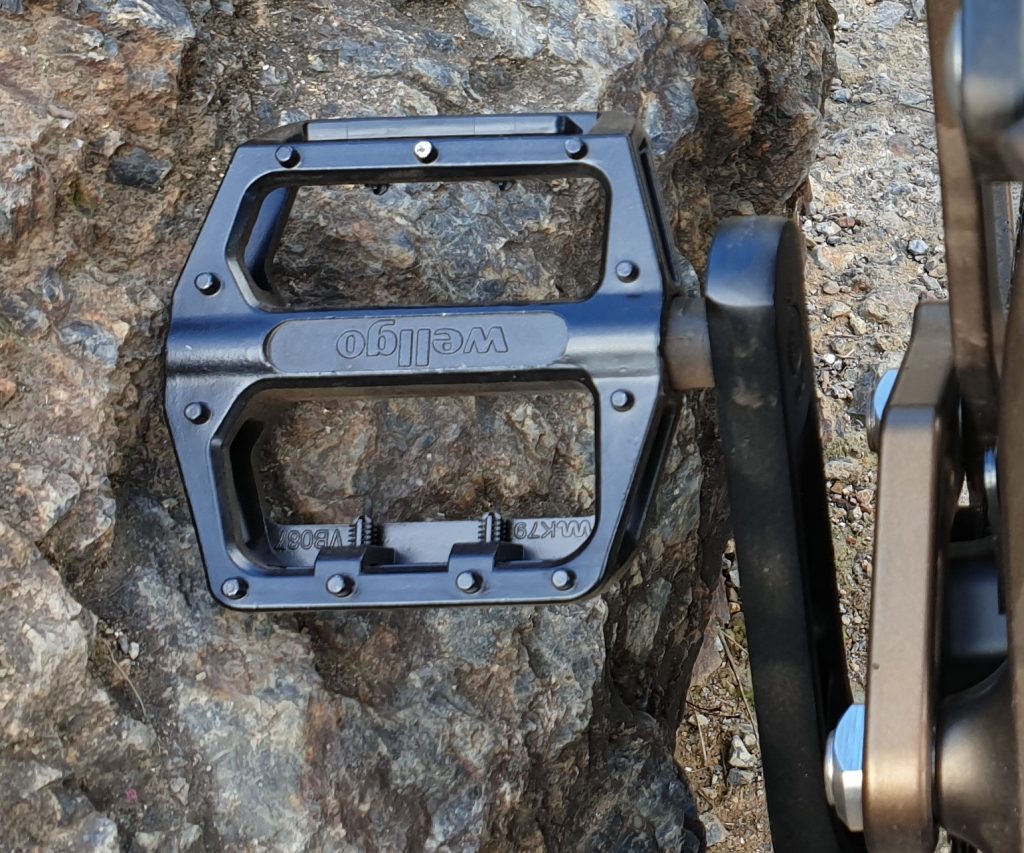 Some like to replace cranks with shorter model, plenty of motor assist to allow for that mod. But we found correct pedalling and positioning technique work great with stock cranks. Wider stance help with this heavy electric mountain bike.
Seat & EXA seat post
The KS Suspension EXA-Form Speed Up Seatpost is a budget line option. Surprisingly, it worked great over all the miles we done in mud, dust, rain and dry days. Now it became little sticky if unused for a week or so, indicating need for lubrication.
The original seat on the other hand had to go as we found that Frey EX Pro is very comfortable electric mountain bike for a long rides. With high level of assistance and twin battery option, you can go places where no other E-MTB can take you. And you can turn around and have downhill fun of your life on the way back.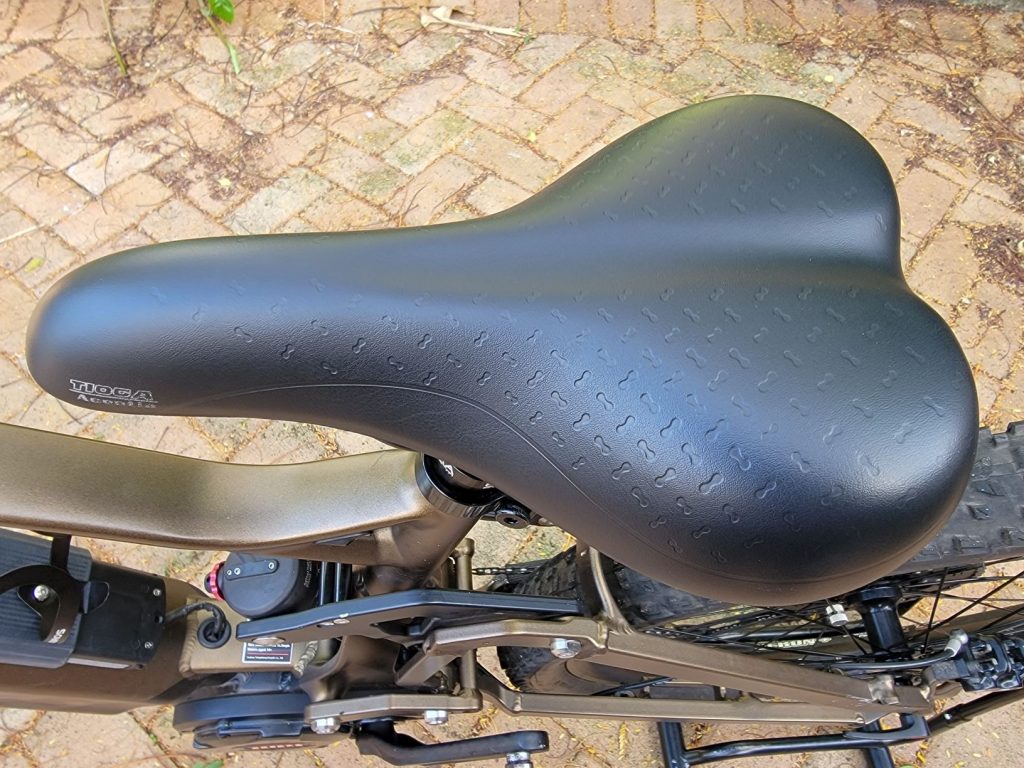 Bell
OI bell is a great fit, slim profile and good sound. And is very needed, as you will be overtaking pushbikes and any other E-MTBs. As fast as any other bike downhill, Frey EX PRO is a monster climber. It will go up any slope while there is grip. It will spin the tire, but stay planted and well controlled. It's not just unstoppable uphill, it's also fast in going up. You will build up fatigue, not from up-hill climbs back to the top, but from downhill runs.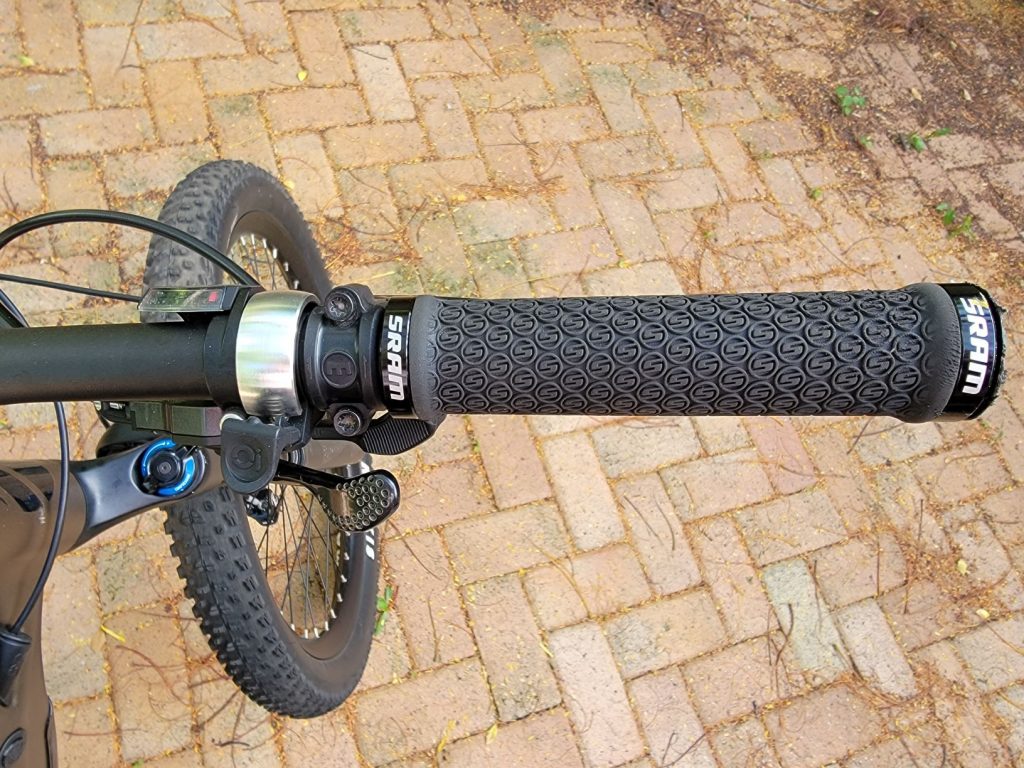 Conclusion of the Frey EX Pro long term review
Thanks to the solid build, use of branded components and good engineering, Frey EX Pro will deliver reliable and predictable performance and wear, making it an excellent choice for adventurers. It benefits from some degree of personalisation. Keep on top of drivetrain maintenance.
At times I find myself longing for my Merida MTB bike but I have to admit that I've rarely been out riding so many miles and as often as I have with the Merida. No matter how shattered and what age you are, it's just a matter of getting on and off this bike. The rest takes care of itself. The technology still amazes me, the battery has now been re-charged about 45 times, and still have at least 500 charges left before its capacity noticeably reduces. Whether the motor and the rest of the bike can last that long remains to be seen. It's certainly exciting, as replacement parts are significantly more expensive than those for a regular push-bike.
Would I rush out and buy another Frey EX Pro? Absolutely. Or maybe lighter version based on Frey M600 motor.
| | |
| --- | --- |
| Pros | Cons |
| – Branded components are off the shelf | – Heavy, at over 30Kg fully loaded |
| – Good reliability in OEM form | – Prone to punchers |
| – Solid build frame | – Rapid groupset wear |
| – Can take abuse, falls and drops | – Motor noise is intrusive |