Frey EX review
The FREY EX electric mountain bike is here. You might not know it by looking at it, but this E-MTB is packing more power than almost any other e-bike and has the dual suspension to manage the most technical terrain.
Except for the name, the new Frey EX has nothing in common with its smaller brother M600 2.0. In an attempt to satisfy hardcore and power hungry customers demand Frey opted for most powerful of Bafang motors known as Bafang Ultra or Ultra Max as well as improved suspension geometry and 180mm fork at the front. Frey have re-designed the frame and rear suspension. With the optional dual battery system, it should appeal to those looking for maximum range with 1344Wh on tap. But can it deliver on the trail?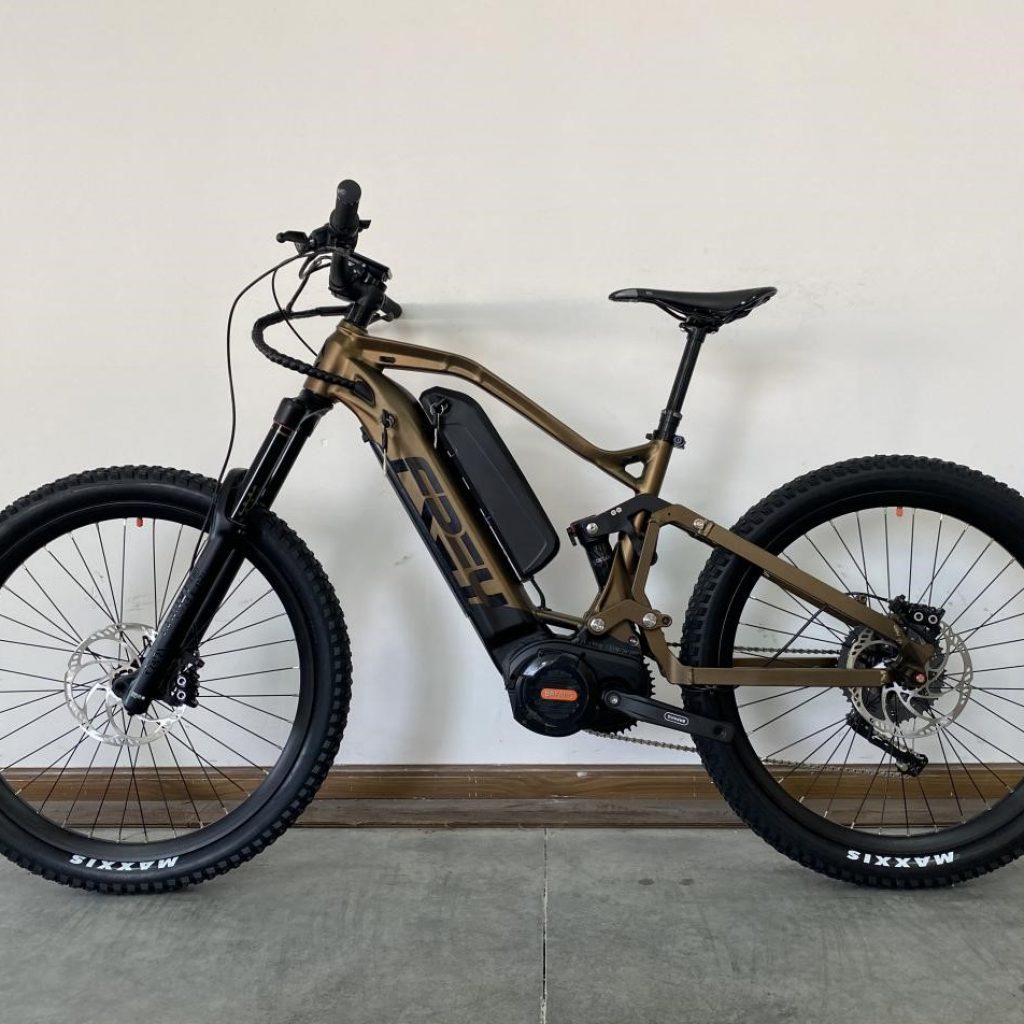 The Frey EX is available with a choice of three different configuration – Basic, Advanced and Pro. Whereas Frey used to differentiate their model range based on the bike design and motor, they now offer  three EX models based on the bike's intended use. The Frey EX Advance we tested is new for 2019. Frey is recognised with the unmistakable hump in the top tube, while established feature like the battery housing shape in lower tube  remain the same.
FREY's e-bikes aren't just powerful, they're packing some of the best mountain bike components in the industry.
We ordered Frey EX Advanced direct with factory in China, and after 10 weeks, it was manufactured, packed and shipped to our address. Upon completion of the build, Frey factory contacted us with the stock standard document containing images of this finished bike been packed. This type of document factories keep for internal record keeping. Contrary to bike you buy at your local bike shop, Frey build bikes to order. Meaning leadtime are over ten weeks, but this give you opportunity to customise from colour to bolt-on's.
Assembly of the eMTB
It took us under three hours to assemble the bike and prepare it for the test ride. Tightening all screws reviled few loose and one stripped screw. The right brake lever connected to rear brake, opposite to motorcycle style. You may want to swap, depending on your preferences. Brakes are not beaded-in, so lite stopping power is available to start with.
We noted unusual charging pattern with twin battery setup. Bike appear to charge in-build battery first and only upon completion starting on charging external battery, when you use bike socket. This function will prohibit users with Grin Cycle Satiator to charge batteries to preset amount of say 80% to extend battery life. But thanks to supplied Y charging cable adaptor, you can plug both batteries in to the charger and get them charged in parallel.
FREY EX factory options
Colour choice $free
Gear sensor $20
Spare derailleur hanger $20
Drop Post (EXA FORM) $70
External battery cover plate $60
Cargo Rack
Wired Lights
Tubeless Rims and Tires
Battery upgrade to 52V
Frey offer battery mount cover plate. While second battery not installed, a cover plate can be mounted and hold water bottle or other accessories.
The price brakes between Basic, Advance and Pro are very tight. Basic is US$3,380. Advanced is US$3,760 and get you second 670Wh battery just for extra US$380. Pro is $4,010 with Rockshox Lyrik as an upgrade. Take a closer look at the spec list, and you'll find the Frey EX Advanced isn't a bad choice. You get ROCKSHOX YARI RC providing 180 mm travel. Transferring the power of the Bafang Ultra Max motor to the 27.5" rear wheel is a Shimano RD-M8000 via KMCe 11 speed chain. The shifting is fast and precise. The Maxxis 27.5*2.8″ REKON+ TLR tire on the rear and front aren't robust enough for our liking due to the EXO casing. Keeping the 30+ kg of the Frey EX Advanced in check are a pair of MAGURA MT5 Ne brakes with 200 mm rotors front and rear.
FREY EX tech specs
Motor: 1 kW continuous, Bafang Ultra / Ultra Max / M620
Torque: 160 Nm
Top speed (tested): 60 km/h (37 mph)
Battery: 48V 14Ah (each), optional two
Range: Varies considerably by ride style/terrain, but 30-100 km (20-60 miles) is the ballpark
Frame: 6061 aluminum
Front suspension: RockShox YARI RC , 180 mm travel
Rear Suspension: RockShox Deluxe 205x65mm, 160 mm travel
Transmission: Shimano RD-M8000
Brakes: Magura MT5-Ne with 203 mm rotors
Weight: Frey EX weight is 35kg with two batteries and drop-post
Frame: 3 sizes (M, L, XL),
Frey EX review on track
When track point uphill, the effective seat angle of the Frey reveals its strengths. You're positioned comfortably central on the bike, as a result, the front wheel stays planted on the trail . Although the suspension isn't quite as responsive as on the Merida, the Frey is able to get up climbs where less powerful bikes on test fail. The Frey feels most comfortable simply by rolling over obstacles, it is a bit sluggish to respond to rapid direction changes and corrections. Going downhill, the Frey EX remains composed, smooth and in control but feels more sluggish than agile due to weight penalty. On flowing trails, it takes effort to pump the bike through rollers or get it airborne. The rear suspension may benefit from better shock absorber with custom tune. The fact that the Frey is by far the heaviest bike on test it is noticeable on flowing trails and in steep sections. On flatter trails and open corners the handling is balanced and easy to control. The even weight distribution allows less skilled riders to generate a lot of grip front and rear.
Despite offering up to 1.5kW of peak power, the Frey EX isn't hard to ride, instead it's addictive. Bafang Ultra Max mid drive motor is well known for its power. It can be a bit surprising for new riders, but you adjust to the power quickly. You will miss refinement or Bosch CX Performance Line and some of it's unique functions, but it's quickly compensated by 160Nm of torque that make less trained rider look rapid.
While delivering ample power Bafang Ultra have it's drawbacks. Most noticeable is motor over-run, when motor continue to provide power after you stop pedalling. This is most evident on highest power output settings and can catch riders by surprise. This overrun is only an issue in town or precision riding. Once Frey EX goes off-road, as intended by Bafang Ultra tuning from Frey, is't actually make sense and spot on. Another is accuracy of power assist an calibration issue, when you feel motor output fluctuation when pedalling. This makes it hard to control amount of power you actually putting to the ground. There is also no assist from the stand still start, the bike need to start rolling before assistance kick in. Starting uphill can be challenging. If you are keen on improving how G510 behave you can read our Bafang Ultra Programming guide here.
Frey EX in it's natural habitat. It performs the best in most harsh and demanding environment.
Frey EX is fast
If you wanted to go fast, you can. With stock tuning and hardware Frey FX will propel you down the road at speeds of 37 miles per hour (60km/h) if you are keen to pedal fast. At that rate of speed you will be using close to 1,5KW of motor assist and battery will be consumed under 10 minutes according to on-board display.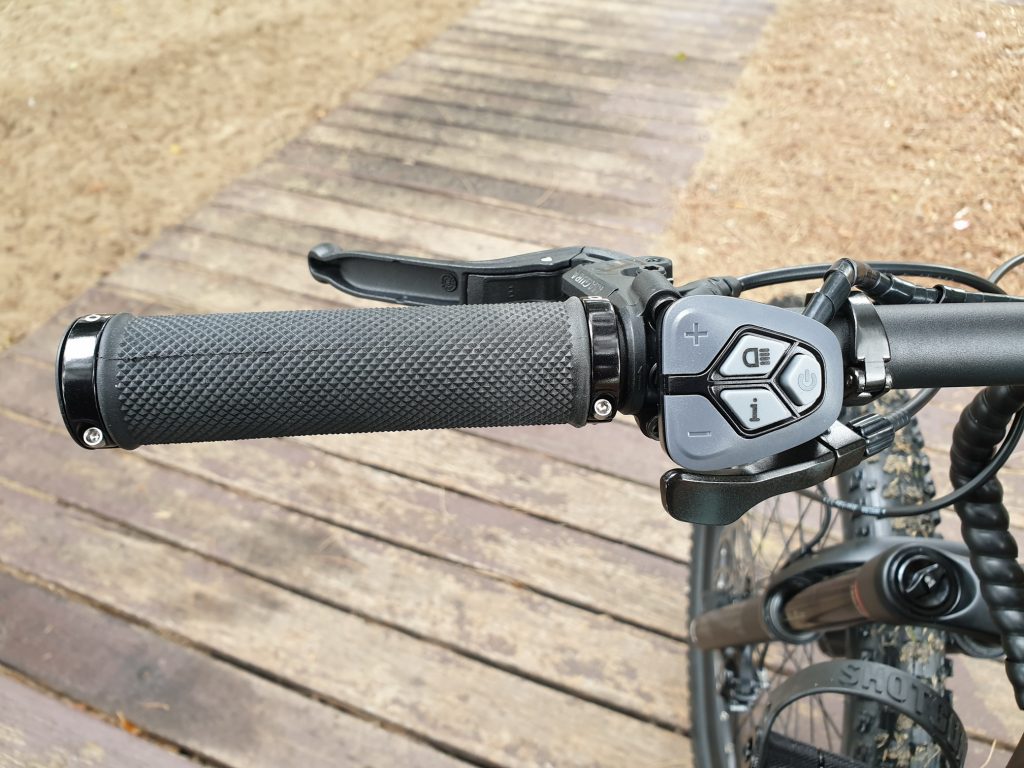 The Frey EX is a great E-MTB for cross-country and excellent climber. However, it quickly reaches its limits as speeds climb and when trying to make quick line corrections.
Bafang Ultra = Raw power
Bafang Ultra comes with 160Nm of torque and 5.3kg
Bosch CX Performance come with 75Nm of torque and 2.9kg
   VS   
The extra weight of Bafang Ultra G510 is noticeable when bike required to make quick transitions, those are the only times we wish Titanium Fabrication or Carbon Technology was used to make the frame. However Frey done a very good job, bike puts power to the ground well and in controlled fashion masking its weight penalty. However on maximum support and in lower gear bike can surprise unexpected rider with loss of traction due to wheel spin. Large dual battery option with capacity over 1300Wh does not dramatically increase range as one would expect comparing to say 250W Bosch motor and battery combination. This is a result of extra power draw due to increased motor assist and lower motor/electronics technology, resulting is reduction in overall efficiency.  At full load G510 run warm but do not overheat, thanks to it's Chinese aluminum die casting casing with integrated fins and airflow across the motor at higher speeds. 
Read our dedicated Bafang Ultra Review here.
Frey experience
Buying Frey is not your usual walk to the bike shop type of transaction. When you decide to get Frey bike, you contact factory in China and order exactly what you want in configuration required. 12 weeks lead-time are about usual. To be willing to take this path, you have to see clear benefit. They are different for different buyers, there is no shortage of orders.
FREY bikes benefits from a small, dedicated team that builds some 10 bikes a day, has local access to big name bike components that made in China local to them. Bafang make own drive systems with inductors wound locally as well as locally sourced Panasonic batteries, frames for bike subcontracted to local metal fabricator, all the electronics including PCB are lockal.  Frey do design own parts, test and evolve over the time. That means that you can get a premium quality electric mountain bike with 1kW motor, top spec components and performance specs that would make a Haibike blush.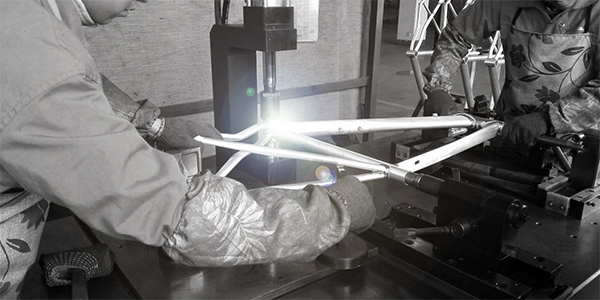 Conclusion of the Frey EX review
Thanks to the riding position, it's raw power and the optional second battery, the Frey EX Advanced will get you to the top of the highest and steepest tracks, making it an excellent choice for adventurers. On the other hand, it lacks the agility and control required for an active riding style on tight technical trails. On open trails, it's a great all-rounder with handling that is balanced and stable.
| | |
| --- | --- |
| Pros | Cons |
| – 160Nm of torque | – Not agile |
| – Quality components | – Wheel speed sensor not integrated into the frame |
| – Price | – Dual battery limit rear shock upgrade options |
| -Factory direct support | – Frame lack refinement of Big Brands |