Bafang M620 Review
At last the much-anticipated Bafang M620 review is here! In this article you'll find the most relevant information, exciting facts about the new mid-drive as well as a comprehensive test of Bafang's powerhouse
Bafang M620, is also known as Ultra
With three offices, two in China and one in Netherlands, Bafang is the largest and most important motor manufacturer in the high power mid-drive, HUB drive and  DIY ebike segment. Bafang introduced their first bike motor in 2003, in response to the emerging e-bike trend. Without the Asian market leader Bafang with it's huge sales that drive the cost down, ebiking wouldn't be as cheap as it is today. In 2014 they sold over 800,000 motors and 200,000 complete systems with batteries. While quality and functionality have always been high on Bafang's list of priorities, the issues of integration and customisation have created the biggest challenges for most bike manufacturers. After all, the size and design of the motor heavily influence bike designs and geometry concepts especially in 1500W mid-drive segment. The same applies to the available displays, which strongly impact ergonomics and intuitive integration with the bike. Unlike many of their competitors, Bafang provide companies direct access to individual parts or complete systems, making  building of e-bikes very flexible. We've already tested the new Bafang M620 mid-motor on the brand-new Frey EX review. 
Top 10 Facts about the 2020 Bafang M620 1,5KW motor
The new Bafang M620 is a refreshed version of its outdated predecessor M620 from 2018, with an entirely new controller and steel gear.
Powerful: 1000W nominal, 1500 peak, tunable pass 2000W.  While torque remains constant at 160 Nm in stock form, the nylon gear was replaced with steel to allow DIY's to overdrive the motor far pass it's factory specification. In some applications utilising aftermarket controllers from EXCESS, ARCHON X1, Phaserunner from GRIN and higher voltage battery it's is pushed pass 2000 Watts.
Integration: M620 max is quite bulky! It comes with mounting bracket, this allow for better, more sophisticated integration and freedom in bike geometry.
Weight: M620 Mid motor weighs around 5.3 kg. It is one of the heaviest on the market. Good it's close to the ground!
Torque sensor: High speed torque sensor to deliver accurate assistance over a wide cadence range. Sprinting over rocky field or pedalling at an even cadence down the road? You have 9 levels of pedal assist, select the support that feels natural.
Better design: Bafang frequently updates it's firmware and hardware to refine the M620 motor based on feedback and new developments. There are constant and incremental improvements as time goes on.
Smoother: Not. Poorly refined controller result in lots of power fluctuation, delays and overruns. There is lots to improve here.
Quiet: unfortunately not. The new motor has some noise issues – especially on full power at 1500W, comparing to Euro market leaders running 250W.
Narrow: the Q-factor (distance between the cranks) is 175 mm is reasonable and provide  natural pedalling sensation. The narrower, the better. 
Greater capacity: There are many battery options depending on the builder of the bike choice. Frey EX for example come as 672Wh or 1344Wh in twin battery configuration.
Hello tuning: Tuning software, controller replacements, higher voltage battery are most popular. While the motor mechanics are over-engineered and can take far over 2000W, other elements often modified to allow motor to operate beyond OEM specification.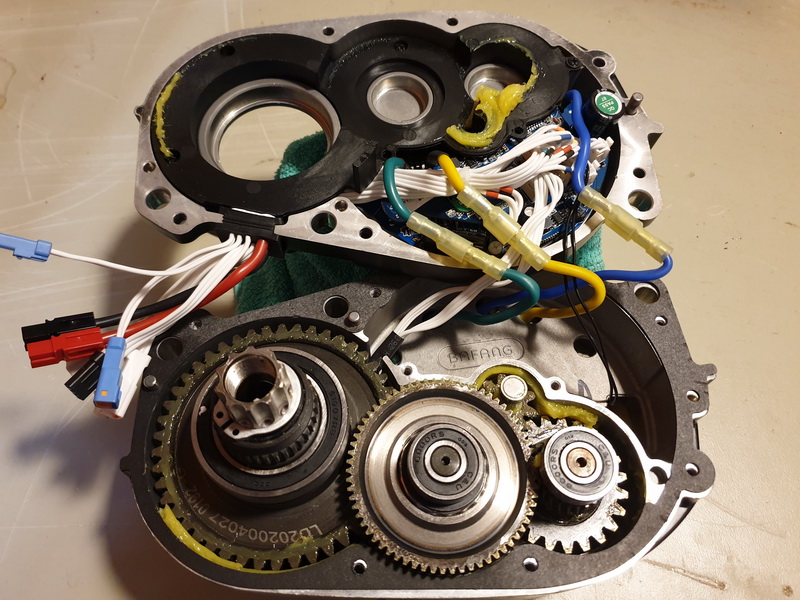 ---
A colourful experience: Bafang DPC-18
In this Bafang M620 review we also look at the new DPC-18 that is centrally located on the cockpit and measures 98mm x 63mm x 69mm. It is by far largest colour LCD display we tested to date. While the graphics on the colour display look excellent, somewhat poor readability in direct sunlight  and non-removable integration with the cockpit make the DPC-18 a less attractive option for ambitious eMTB riders. 
For convenience it offer USB connector for charging your smartphone or light. While USB output is only 500mA  it will comfortably recharge devices over the time. You will also find ability to set dedicated lock PIN, but it do not immobilise the bike, just lock display. It's worth to note that Bafang fixed Real Time Clock issue that caused time loss when battery is disconnected.
Some details:
Buttons: Plus, Minus, i (Information), Lights, Power
Readouts: Clock, Battery Percentage, Speedometer (MPH or KM/H), Power Output (Watts), Trip Distance, Total Distance (Odometer), Average Speed, Maximum Speed, Range Estimate, Calories Burned, Trip Timer, Assist Level (0-9)
Full sized USB Type A charging port built into the base 500mA
Ambient light sensor built in to auto-adjust brightness based on surroundings
Double tap the i (Information) button to enter settings menu
Settings menus include: Units, Brightness, Auto-Off Timer, Pedal Assist Levels (3, 5, or 9 levels), Power View (Power in Watts or Current), State of Charge View (Percentage or Voltage), Trip Reset, Wheel Size, Speed Limit, AL Sensitivity (Ambient Light), Password, Set Clock
Other Settings menus include Battery Information and Error Codes to help shops and manufacturers with troubleshooting and warranty
Good: Large and easy to read, centrally mounted on Frey ebikes. The color displey makes interpreting different menus quick and intuitive. Battery percentage much more useful over bar-graph. It is great that the display mount has a full sized USB port built into the base, so you can maintain or charge portable electronics directly from the ebike battery. Inexpensive to replace at $US120, compare that to Bosch display.
Cons: Not removable, weight 200 gram, can take damage in transit or on track, can overheat from sunlight and damaged  from physical contact at bike racks. The color readouts could be distracting and the screen is very  reflective in sun. LCD is connected to main controller via frexible pcb manufactured in China, it is know to cause occasional issue and loose electrical connection if no care taken about closing USB port rubber plug, as moisture buildup inside display module and cause corrosion. 
Batteries options
Bafang M620 kit supplied with 48V battery. While it will deliver full torque of 160Nm across the RPM range, it is known to limit top speed of a bike as charge of the battery fall below 60%. Riders that seek max top speed opt for 52V aftermarket batteries. Those higher voltage batteries also allow higher current flow, combined with higher motor RPM resulting in substantial boost of power. Bafang M620 motor controller maxes out somewhere around 63V, above this voltage modifications to the circuitry are needed. This is usually reserved for some extreme applications where aftermarket controllers are used to push motor beyond 2kw mark.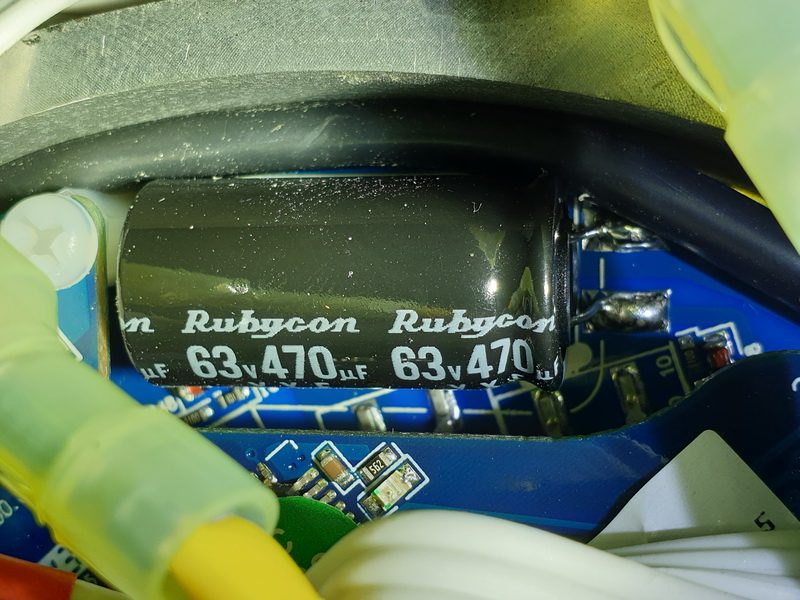 Bafang uses electronics contract manufacturer in China for PCB assembly, they been installing 63V capacitors on the PCB. However, original PCB and circuit was designed for 100V capacitors, this means system build with 70V batteries in mind. 63V capacitors limit maximum operating voltage of the motor controller, it cannot rise above 58V.
Testing the Bafang M620 mid drive Motor
The Bafang M620 was designed with heavy load in mind. The latest incarnation of the motor does pretty much everything better than its predecessors. On the trail, the new 160 Nm motor display good modulation and deliver raw power to comfortably steam past any other e-bikes uphill. The maximum support level has been increased from 650% to 700% and as a result, on steep climbs, the new Bafang keeps up with test winner of our motor group test of mid-drives, with the only being that it requires a higher cadence if you want to conserve the battery. The highlight of the Bafang M620 is the newly redeveloped controller and improved torque sensor algoritm that measures the amount of pressure you put on the pedals. The new electronics are more reliable, especially if tuned and smooth and easy to control comparing to old school throttle only models. In other words, no other motor on the market feels as effortless going uphill and fun on technical climbs as the Bafang M620!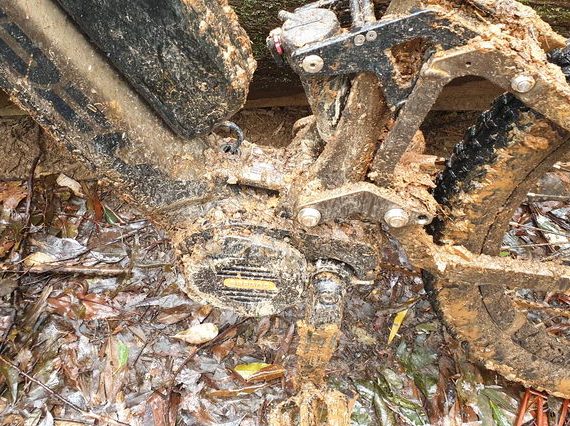 We tested Bafang M620 in most extreme conditions, it delivered every single time.
---
 The Bafang M620 delivers an effortless ride. While other motors are weak & expensive , the new M620 is powerful while still easy to modulate and delivers trill riding uphill as downhill.
The latest Bafang M620 does have a bit of a noise problem – not the typical noise of the motor humming under full load, but the coarse-toothed buzz and freewheel that produces a metallic sound when it engages. As a result, eMTBs with a Bafang M620 will be louder than most Bosch or HUB bikes, which is unfortunate, as we all know how good a quiet bike feels.
The Bafang M620 comes as a open system but encourage bike manufacturers to use Bafang's in-house remotes, displays, motor software and rechargeable batteries. Fortunately, there are ways to adapt the motor characteristics to a specific bike concept. As there a choice of several displays, smaller models are the only reasonable option for sporty eMTBs. And host of aftermarket batteries and several controllers. Sadly, there are no minimalist communication modules for mobile APP's for display-less configurations. Which is strange, considering how integrated all other devices have became to date.
The high weight and large housing of the new Bafang mid drive can have a negative influence on the handling of new bikes with the Bafang M620mid-drive motor.
As far as weight and size go, the new Bafang M620 is industry heavy weight. Large and heavy is the price to pay for 160Nm of torque, overbuild and tuning enabled design, all at the tight budget price. While the size and shape still offer bike manufacturers lots of freedom for frame and suspension designs, its very high torque output creates new challenges in terms of drivetrain selection and reliability, at least on designs without a careful consideration. Despite its latest revision, Bafang still relies on exposed spoke magnets as speed sensors. Other manufacturers are already moved on to more elegant integrated sensors.
Powerful, big, heavy and reliable mid drive motor. This is how we see Bafang M620 in 2020.
Bafang M620 endurance test
As part of trail testing we took thermal readings of G510 Mid-Drive. After few hours of general trail rides that consisted of downhill sections following by climbs back up to start point we been taking thermal images to monitor motor and battery temperature. At no point Bafang M620 operated at temperature over 20c (68f) above ambient. And even after some long climbs at maximum assistance level (PAS) that consisted of about 2 minutes of continuous uphill, motor had enough thermal inertia and heat dissipation to absorb all waste heat and display minimal temperature rise. Bafang M620 have internal temperature sensor that cut power when motor winding reach thermal limits, there is no way we could reach that level on non-modified drive on usual trails and general cross mountain rides.
The Bafang M620 operated at temperatures 20c above ambient, no matter how hard we push it on the trail.
About Bafang
Bafang is established company with many drives on offer. From 250W HUB motors to 1,500W mid drives, there is one for every application. While technologically company is not as advanced as say Bosch, they are building budget focused alternative that is well received by enthusiasts. There are dedicated communities that share experience and followers that used Bafang motors for may years.
Over the last 10 years, Bafang have lost some key people in the company, some of which started own motor manufacturing business. We are yet to see any serious competitors arising but welcome new comers. We do hope that in the near future, we will get to see new generation of drives that are on par with best Euro designs in terms of refinement. We also hope to see new generation of controllers that have integrated bike immobilisers, Bluetooth phone integration for display-less control and provision for GPS tracking. At the moment, there is only one aftermarket solution known as Eggrider V2 that offer wireless connectivity and flexible tuning terminal with minimalist display.
Conclusion of the Bafang M620 review
The new Bafang M620 is same size and weight as its predecessor. Revised controller, adds reliability but not functionality. All steel gearing now more robust. Fortunately, the open system allow for custom options and bike manufacturers are given the freedom to implement their own solutions. As far as display, remotes and controllers integration go, we were expecting a lot more and still have to wait for more connected options. Unfortunately, it's loud, there is some freewheel/clutch play that affects the ride experience. In terms of performance, the Bafang M620 plays in the top league of eMTB motors. The eMTB's equipped with M620 always delivers enough power and unbeatable on steep uphill rides.
| | |
| --- | --- |
| Pros | Cons |
| – 160Nm of torque | – Weight |
| – Reliability | – Size |
| – Price | – Power hungry |
| – Easy to tune | – Electronics not as refined as Euro's |
---
If you're interested in how Bafang M620 integrated in to Frey EX bike and it's performance, please check our Frey EX review.
---